In The Spotlight: Jagrit Gyawali
Who are you what is your role at Jet2.com and Jet2holidays?
I am Jagrit Gyawali and I'm a Test Specialist at Jet2.com and Jet2holidays. I work in the IT Ecommerce department to ensure we have a right level of quality coverage before we make our new system/features available to our valuable customers. My focus is to make the new systems more testable, design the test architecture that the teams can
follow to test such systems. I focus on automation tests which can be reused, get them running in the build so that there is a quick feedback and find any gaps there might be in testing and planning/strategizing accordingly.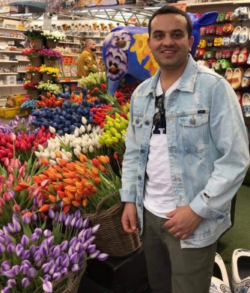 What do you love most about working for Jet2.com and Jet2holidays?
I joined Jet2 as a consultant, some 5 years back. It's flown by(cliché). Honestly though, I came on a 3 months contract from London and I was just counting my days initially, but I started loving the company and Leeds as a city too. I have loved the support network there is everywhere at Jet2 as I find myself dealing with multiple departments across the company. I love the company ethos as we always put customers first which can be showcased by our VIP Customer Service during the pandemic.
I have come a long way since I joined Jet2 as a consultant. I have worked as a Senior Tester, Test Lead and now a Test Specialist. I have to say I love the personal and career development opportunities there are without which I would not have worked my way up to the role I have now at Jet2.
Which Jet2 destination is your favourite and why?
My favourite Jet2holidays destination has to be Amsterdam because it has more than 150 canals and 1,250 bridges, good numbers not to be the favourite. On a more serious note, I love the vibe, food, architecture, culture, hustle bustle, there's just so much going on. I have been a few times and never get tired of it partly because it is so near.
Where's the first place you've visited since the lockdown restrictions were eased?
Banyan on Street Lane for brunch with a group of mates. It was very tempting to get a pint and make the most of the vibe but was a bit too early unfortunately.
Settle the debate: Sweet or savoury?
The answer is 'depends on the mood'. I am tempted to lean a bit more towards savoury, but I can't say no to a slice of cake, ice cream or chocolates.