Jet2 Women in Tech
"I am Elizabeth, and I have worked at Jet2 for almost 4 years. I started has a Test Analyst and then progressed into my current role as a Release Engineer. The representation of women in Tech The growth and development of women in tech, diversity and inclusion are areas I am enthusiastic about. The launch of Jet2 Women in Tech on 2 August 2023 has been very exciting. With incredible support from senior management, the business has taken a great step in the right direction to support women within the tech industry. Let's explore together what started this powerful movement, the working groups, and the changes Jet2 Women in Tech (Jet2WIT) aims to drive within the organisation."
Our CIO, Gary Isaacs, saw the ratio of women to men within IT & Digital departments and was convinced that, although Jet2's ratio at the time was similar to the industry's UK average, Jet2 could be better. He meets with Rachel Bayley (GM of Release Management), to discuss his aim for Jet2 to be far ahead of the UK average for the representation of women in tech. Rachel started to look deeper into the statistics and became a driving force behind the creation of the Jet2WIT along with the working groups she has put together to help drive this initiate for change.
The working group is made up of seven women who lead the initiatives that Jet2WIT see as key areas to help drive a positive change for all women who work in tech. The group has met with some of our key suppliers to share the great work they're doing, and how we can both benefit from understanding our shared experiences.

The journey so far
Jet2 Women in Tech launched officially on 2nd August 2023 with our first event in Leeds! We heard a couple of supplier updates as well as an inspiring career story from a senior female executive at Akamai (Natalie Billingham (Managing Director, EMEA). There were also group activities to help us to get to know each other. The event was full of energy, excitement, and joy! It's great to be part of a company that's serious on taking steps to make meaningful changes for its employees.
The groups have been working in the background to make changes that would help drive Jet2WIT agendas. Before launch, the team spent time in focus groups with other women within IT & Digital to find out what changes they would like to see within the business. From these sessions, we outlined the four key areas of focus for the working group: Recruitment, Mentoring, Events and Communications.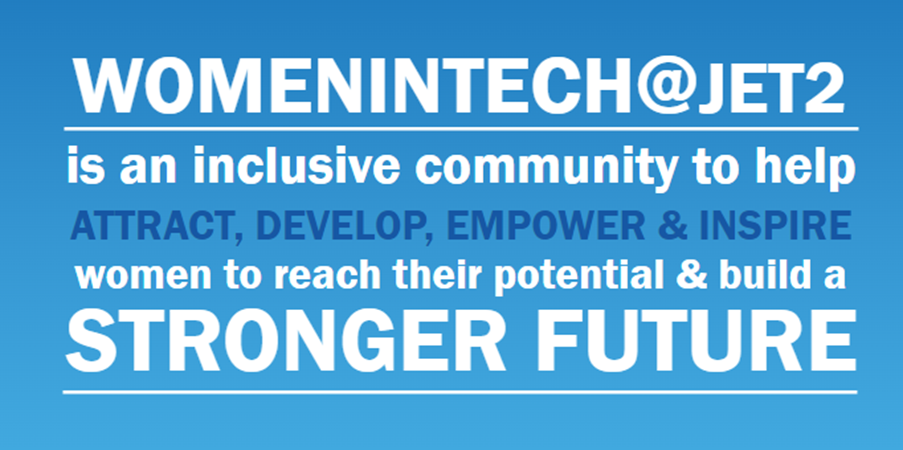 The Future
Jet2WIT are excited to launch its Coffee and Chat event in October along with the new Mentoring Programme. There's also a drive within Recruitment to find ways to make Jet2 more attractive to women, with diversity and inclusion at the centre of this.
The community that Jet2WIT has created is not just focusing on increasing the ratio of women in IT & Digital departments, but it also makes sure that existing employees are supported in their career development and growth. We've been working on KPIs to make sure success can be measured, and that management can be accountable.
The changes happening within the working groups are incredible! We're engaging all key stakeholders to make sure this community succeeds, and most importantly, so women at Jet2 are supported and encouraged into leadership.
---