Jet2.com awarded Glassdoor Employee's Choice Award
Jet2.com has been named the number one airline in the Best Places to Work in the UK in 2022, according to Glassdoor, the worldwide leader on insights about jobs and companies.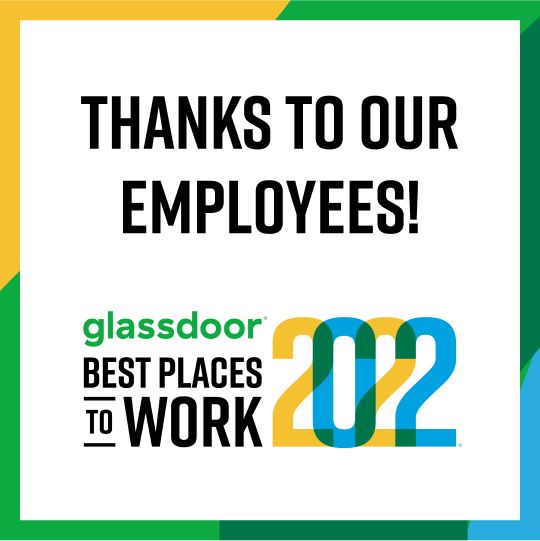 With an overall satisfaction rating of 4.2 out of 5, Jet2.com was the only airline to appear in the list of the Best Places to Work in the UK in 2022, ranking at number 43. As a result of being highly rated for workplace experiences, the UK's third largest airline was honoured with Glassdoor's Employees' Choice Award 2022.
The accolade is based solely on the input of colleagues and comes after Glassdoor evaluated anonymous reviews from former and current colleagues of Jet2.com about their job, work environment and employer on the review website. Now in its 14th year, the winners of the annual Glassdoor Employees' Choice Awards 2022 were determined based on reviews shared on the website between 20 October 2020 and 18 October 2021.
To be considered for an Employees' Choice Award, companies must have received at least 30 reviews over the 12-month period for each of the nine workplace attributes. Overall company rating, career opportunities, compensation and benefits, culture and values, senior management, diversity and inclusion, work/life balance, recommend to a friend and six-month business outlook are all taken into account as part of the award's algorithm. In addition, employees are asked to describe the best reasons to work at their companies as well as any downsides.
According to Glassdoor, positive feedback from employees centered around Jet2.com supporting and looking after employees during the pandemic. Employees have plenty of praise about working at Jet2.com, with comments including:
"Great working environment and people"
"Excellent pay and highly knowledgeable senior team"
"Lot of passionate people in the company. Producing a great product for the customers."
"Love working for the company! Great team and leaders. Great benefits. Amazing communication and strong management! Hope to be here for the next 20 years."
"High salary. Meet lots of new people every day. Great lifestyle with many days off. Gain skills for life."
Steve Heapy, CEO of Jet2.com and Jet2holidays, said: "We are delighted to be the only airline recognised as one of the Best Places to Work in the UK in 2022 by Glassdoor and awarded with an Employees' Choice Award. Our absolute focus is always about getting it right for our customers and delivering a first-class customer service, but our business would not be as successful as it is today without the hard work and commitment of talented and motivated colleagues. We work very hard to support and develop our colleagues, so we are delighted to receive this accolade."
He added: "We value our colleagues enormously and take every effort to appreciate and acknowledge their contribution, which we why we take into account feedback to ensure that working for us is a truly rewarding experience. What makes this award even more special is that it is based entirely on the feedback of colleagues and is based on their actual perspectives of working for the company. We would like to thank all those who took the time to share their experiences of working at Jet2.com over the past year, as it is this feedback that has contributed to this fantastic win."
Christian Sutherland-Wong, Chief Executive Officer at Glassdoor, added: "The world of work is rapidly evolving, fueled by the pandemic and now millions of workers are reevaluating their expectations from employers. This year's Best Places to Work winners are leading the way by listening and responding to employee feedback and reimagining the employee experience to truly put their people first.
"It is inspiring to see these employers step up during the pandemic to expand and grow company cultures where employees feel supported and valued in and out of work. Congratulations to all of this year's Employees' Choice Award winners."