Jet2holidays receives Feefo Platinum Trusted Service Award again
Jet2holidays has been recognised for delivering exceptional customer service and awarded the coveted Platinum Trusted Service Award for the second year running by Feefo, one of the UK's biggest online review platforms.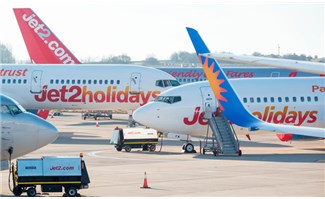 After a year dominated by the Covid-19 pandemic, we have received the Platinum Trusted Service Award once again after winning the prestigious Gold Trusted Service Award for providing outstanding levels of quality and service to customers. It follows us receiving positive customer feedback for our handling of the pandemic during the period of 1st January to 31st December 2020, as well as taking into account customer reviews from the previous three years.
Only companies that provide a consistently excellent service, sustained over three consecutive years or more, and show dedication to going above and beyond to deliver high levels of customer experience are awarded the Platinum Trusted Service Award.
Through Feefo, customers can leave a rating out of five for the service provided by following a link on the booking confirmation when they book a package holiday with us. After achieving a score of 4.7 out of 5 from over 600 reviews over the last 12 months, we were awarded the Gold Trusted Service Award for the fourth year running, and automatically received the Platinum Trusted Service Award accolade.
On Feefo, customers of Jet2holidays have plenty of praise, with comments including:
"Have dealt brilliantly with both cancelled flights and a holiday during the pandemic. Wonderful service and have now re-booked with them again."
"This is the 4th holiday we have booked with Jet2 this year, hopefully we will get to go on this one… the point is that I am happy to re-book with them because of their proven reputation for customer service giving timely (sometimes same-day) refunds on cancellations. A shining example to the travel sector."
"Owing to Covid we've had to make several plan changes to our holidays this year. Every time we've had refunds back in our bank account within the week. The contact staff have been super."
"Definitely would go on holiday with Jet2holidays again. During the COVID crisis we had holidays booked that were unfortunately cancelled. We were kept informed every step of the way and received a cash refund within 10 days of the holiday being cancelled. Been on holiday several times with Jet2holidays and from start to finish the service was exceptional. Book your holidays with them, they are brilliant."
We have continued our customer-first strategy throughout the Coronavirus pandemic, winning praise from customers, consumer organisations, media, and independent travel agents for how we have looked after customers affected by programme changes. Whether processing swift refunds or helping save customers' holidays by offering flexible rebook options, we have experienced positive feedback for our approach.
Jet2.com was also recognised by Feefo and received a Trusted Service Award, for customer service.
Steve Heapy, CEO of Jet2.com and Jet2holidays, said: "There is no doubt that the past 12 months have been a challenge, but despite this our absolute focus is always about getting it right for our customers and delivering a first-class experience.
"This latest accolade shows that our customer-first approach has not wavered, and we are extremely proud that our efforts have been recognised in this way. The fact that this latest award is as a result of hundreds of positive reviews from paying customers makes it an even greater achievement, and we know that by doing the right thing for customers will stand us in good stead when the sun starts to shine again."